Georgian Vice Prime Minister Giorgi Baramidze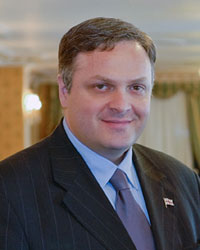 His Excellency Giorgi Baramidze
Vice Prime Minister of Georgia
Georgia and the Black Sea Region
OPENING REMARKS
Let me share with you my ideas on the role of the EU and NATO in establishing security and prosperity in the Black Sea region.I would now like to speak about the challenges and problems my country faces today. Georgia is located in the Black Sea region, an inherent part of the Europe. This fact was underscored when Romania and Bulgaria, other countries of this region, became members of the European Union. It is our hope that Turkey, another regional country that is now undergoing an important transformation and aspires to EU membership, will soon become a member of the European family as well.
THE IMPORTANCE AND CONCERNS OF THE BLACK SEA REGION AND GEORGIA
The Black Sea region is comprised of Eastern European countries including Ukraine, Moldova, Georgia, Armenia, Azerbaijan and Russia, which are important neighbors and partners of the European Union. This region is indeed full of challenges as well as great opportunities. Currently it delivers energy resources to Europe, bypassing Russia, and also is involved with new energy-related ideas and projects, including the Nabucco project, which, when realized, will further strengthen Europe's energy security and independence. In addition, Romania, Georgia, Azerbaijan, and Kazakhstan recently decided to build a liquefied natural gas terminal on the coast of Georgia, which will provide additional natural gas for Europe and diversify the means of delivery.
What is Georgia's interest in all of this? It may sound trivial, but what we want and aspire to is peace, security, development, and prosperity. We have always faced different kinds of security problems and challenges, and we still face them: 20% of our territory has been occupied since Russia's August invasion, endangering our security and future prosperity. The core of the problem is that our neighbor does not respect the universal values of the civilized world, including independence and sovereignty.
Recently, Ambassador Primor said, "What should countries' motivation be when they negotiate different kinds of deals?" If one party thinks that the other party will soon be eliminated, there is no motivation to reach an agreement. This is quite similar to the situation between Georgia and Russia. Russia thinks that, by exerting a bit of pressure on Georgia, the country will no longer exist as an independent and sovereign state. But we do not believe that exerting this pressure is in Russia's best interest. We believe that Russia, as a European nation, could establish good relations with Georgia and start developing as a truly democratic country, respecting its neighbors' independence and sovereignty. Unfortunately, the leadership of Russia, which thinks that the dissolution of the Soviet Union was the biggest tragedy of the 20th century and that NATO is a significant threat, is not willing to act in a civilized way.
Why does Russia believe that NATO is a threat? I do not think Russians lack intelligence, and they should be well aware that NATO does not represent a threat to Russia. Actually, Russia considers NATO an enemy only because of political motivation and their self-perception. Alliance expansion to the east represents a great threat to the imperialistic thoughts of Russian leaders regarding regaining control of the territories they lost after the dissolution of the Soviet Union and reviving the Russian Empire.
Russia's leadership understands very well that they cannot truly challenge NATO or EU countries. Therefore, quite smartly, they are trying to establish good relationships with practically all NATO and EU countries. At the same time, they are acting aggressively and bullying their small neighbors that are not members of NATO or the European Union.
THE EFFECTS OF NATO AND EU MEMBERSHIP
During the years since its establishment, the Alliance has proved that its expansion brings peace, security, stability, and the opportunity to become prosperous to those nations that are members. I believe that history will repeat itself in Georgia's case, and that our membership will bring peace, stability, and prosperity to my country and the entire region.
Unfortunately, even though Georgia and Russia have many common interests, including combating terrorism, fighting against organized crime and drug trafficking, and establishing a WMD nonproliferation policy, we do not believe that Russia's motivation will change within the next 10 to 15 years or that Russia's pressure on Georgia will lessen until Georgia becomes a member of NATO. Furthermore, we do not believe that the U.N. and NATO should wait until countries like Georgia surrender. Based on such countries' merit, achievements, and democratic, economic, security, and defense reforms, they should be allowed to join the Euro-Atlantic family to help solve problems in the region.
The Baltic States have shown that post-Soviet countries can develop positive relationships with Russia and that their region can become more secure, stable, and harmonious. We believe that by achieving NATO and EU membership the Black Sea countries will also bring peace and prosperity not only to their countries but to the whole region and will enhance European security.