Latvian Defense Minister Imants Liegis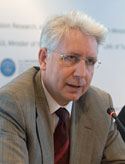 His Excellency Imants Liegis,
Defense Minister of Latvia
Security in the Baltic Region
I will structure my address in three parts: first, twenty years ago, then ten years ago, and finally today, the Strategic Concept. Yesterday, all three of us—defense ministers from Latvia, Lithuania, and Estonia—were together in Lithuania where we celebrated the 10th anniversary of the Baltic Joint Air Surveillance project. And of course earlier this week we were all in Riga as part of the NATO Parliamentary Assembly where we spoke on a panel about Afghanistan. Next week, we will be meeting again at the NATO Defense Ministers' meeting and we will have a separate meeting of our own to discuss ongoing projects. As the frequency of our meetings suggests, our cooperation is very close and very successful.
TWENTY YEARS AGO
In case some of you are wondering about my accent, I want to stress that I am a true Balt, not a true Brit. I am a Latvian from the United Kingdom. Twenty years ago, I was already involved in Baltic cooperation, as a representative of something called the Baltic World Council, an exile group. I was the European representative, which involved lobbying institutions in Strasbourg, Brussels, and the European Union and informing them about events that were taking place at that time in the Baltic region. These were momentous events, because we were striving to regain our independence and our freedom. It was a singing revolution—a way of regaining freedom through singing, and it was a totally passive resistance. Twenty-one years ago, I was in Latvia, and I took part in a human chain which went from Tallinn, and Riga, to Vilnius, with a couple million people standing and holding hands, facing west and with their backs to the east for obvious reasons. Amazingly, this was at a time when we still had Soviet troops on our soil. We were still part of the Soviet Union.
On the 4th of May this year, we marked the twentieth anniversary of the declaration of our independence, even though we were still formally Soviet republics at that date. Lithuania, which led the way—with President Landsbergis very much in the forefront, made a unilateral declaration of independence. Latvia's declaration was for a transition to full independence, which took place one year later in August 1991. These were really momentous events. In my capacity as the Baltic representative, I remember very well a meeting in the European Parliament in Strasbourg. There had been a meeting of what was then the CSCE in Paris, which our three foreign ministers had attended—Lennart Meri, now deceased, Algirdas Saudargas, and Janis Jurkans, the Latvian Foreign Minister. Two of them came to Strasbourg for a bit of lobbying, the first time that we attended the European Parliament and Lennart Meri, a very inspiring figure, explained to the European Parliamentarians what had happened the day before in Paris. When the three Baltic representatives arrived, they learned from the French of Gorbachev's demand that the meeting would either have to go ahead without him or the Baltic representatives would have to leave the room. So at that stage, we were shown the door, and we had to sit in a room adjacent to the one where the meeting was taking place. In describing these events, Lennart Merri asked, "Which country is more independent, Estonia or France?" That was a wonderful quote. Since I was unable to persuade the Lithuanian representative to come to Strasbourg for the European Parliament meeting, there were some amusing consequences: At the end of the day, we were up in the gallery when our presence was acknowledged. Since the message that there were only two foreign ministers had not gotten through, it was announced that all three Baltic foreign ministers were present. So I was pushed to stand up so, and for thirty seconds, I had publicly become the Lithuanian Minister of Foreign Affairs! So these are some of my personal views about the situation twenty years ago, four years before the Russian troops finally left our territories.
TEN YEARS AGO
As I already mentioned, we have just celebrated the tenth anniversary of the BALTNET project. Ten years ago, I was Latvia's Ambassador to NATO in Brussels and we were then aspiring members of the Alliance. There were some "question marks" as to our prospects and, as Edgar Buckley will recall, there were discussions as to whether the Baltic States were defendable. Some allies felt that we were not, and this argument was advanced for not inviting us to join NATO. At the same time, everyone was waiting to see what the new U.S. Administration would say about further enlargement. When Victoria Nuland, who subsequently became the US Permanent Representative, arrived in Brussels—I think it was the summer of 2000, I had a conversation with her on the grounds of the U.S. Ambassador's wonderful residence in Brussels. At that stage, Estonia had already been invited to start negotiations for the European Union and Lithuania was making a very strong push vis-à-vis NATO. Latvia was a bit stuck in the middle and Victoria Nuland said to me: "Well, you know, how would you feel if we took one Baltic State for the next round of enlargement?" I said that it would be disastrous. Where would that leave Latvia? We are in the middle. With Estonia in the EU and Lithuania in NATO, we would be left in a situation where we would have to look east. Fortunately, things turned out in a positive way.
In the mid-90s, there were academics, such as Ron Asmus, who had already focused on Baltic regional security and our prospects for joining the Alliance. Another academic, Jim Goldgeier in Washington, had written a book saying that it was not a question of whether the Baltic States would be invited to join but when. A couple of years later, George Bush's administration came into power and they went for the "big bang." We were indeed invited in 2002 and we joined in 2004.
TODAY: THE NEW STRATEGIC CONCEPT
Because of the Russia factor, we were at the sharp edge of the enlargement question. And as NATO prepares its new Strategic Concept, we are still on the sharp edge and for the same reason. The expert group's report of the new Strategic Concept not only addressed Russia as a key issue, but, as I think Admiral Fitzgerald said, the focus of the expert group's report was on the east. Being in the east of the Alliance, we were very sensitive to that. During the process of developing the Strategic Concept over the last year, I was fortunate that I did not need to focus on it a great deal in my role as Minister. Thanks to our excellent Baltic cooperation, we were in the unique position of having one expert on the group of twelve to represent our three countries, Ambassador Aivis Ronis. He took over from me as Ambassador to NATO, and he is now Latvia's Minister of Foreign Affairs. He was mandated by all three governments to represent Estonia, Latvia, and Lithuania on the expert group. So we were very privileged in that respect and also because of the willingness of Madeleine Albright and other members to consider the whole question of reassurances—because the events of the last couple of years clearly demanded them. On the streets of Riga, our people were gravely concerned by the conflict in Georgia in August 2008. (Ron Asmus said that NATO was AWOL at the time.) Our people regarded Russia's actions as the invasion of a neighboring country, a sovereign country, under the pretext that Russia was defending its nationals in Georgia. This rang heavily on the streets of Riga and no doubt in Tallinn and Vilnius as well. Thus, reassurances were needed and, in many ways, they were provided by the recommendations of the expert group. Of course, let's not forget that they are only recommendations. We certainly hope that the Secretary General will "take them on board" and that they will be included in the Strategic Concept that will be presented for adoption by all member states at the end of November if I am not mistaken.
Other important elements of reassurance for us are such things as exercises on our territory. We will be having joint Baltic and other country exercises in the next few days where there will be a naval exercise, this one is BALTOPS, where there will be landings from the sea. Russia has been invited, and they will have a ship. I think Sweden will also be present along with a number of our NATO allies. Nonetheless, over the last year, the question has come up as to the importance of Article 5 exercises on the territories of member states and, to my mind, these exercises should become a normal aspect of alliance business because we must have exercises in order to be able to consider the whole validity of collective defense and the implications of Article 5. The other thing that I would mention is the importance of Article 4. Earlier this week when the Secretary General was in Riga for the NATO Parliamentary Assembly, I was impressed to hear him say in a private meeting that he was very inspired by the recommendations that had been made by the expert group vis-à-vis the use of consultations and he linked that to the question of energy security.
From our perspective—and this is perhaps more of a Latvian view that I have already gone on record as saying, the element of consultations should be expanded even wider. It should not just be regarded as a next step to Article 5, consultations would be important for such issues as the transfer of military equipment by NATO member countries to third countries, which could have implications for regional security. Therefore, I think there should be a more liberal interpretation of Article 4 to allow those consultations to take place. This would permit assurances to be given to member states that may feel more vulnerable. Solidarity is vital and this requires consultations. This approach also runs in parallel with the European Union, where the Lisbon Treaty quite clearly talks about the need for solidarity and consultations.