Rome '08 Workshop
Combating Weapons of Mass Destruction Proliferation
Dr. James Tegnelia
Director, Defense Threat Reduction Agency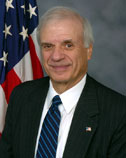 Of all the challenges to global security, none is greater than the need to combat the proliferation of weapons of mass destruction. According to the recently released report of the Commission on the Prevention of Weapons of Mass Destruction, the near-term threat of a WMD terrorist attack is grave and action needs to be taken urgently to prevent such an attack from occurring. According to the executive summary of the report:
"Unless the world community acts decisively and with great urgency, it is more likely than not that a weapon of mass destruction will be used in terrorist attack somewhere in the world by 2013."
In fact, the need to prevent WMD proliferation is one of the key motivations not only for the wars in Iraq and Afghanistan, but also for the concern over Iran's potential acquisition of nuclear technologies, and many other serious issues. In order to discuss the threat, I have assembled a panel of senior U.S., NATO, and Russian officials: Mr. John Rood, the U.S. Under Secretary of State for Arms Control and International Security; Amb. Robert Joseph, his predecessor as the Under Secretary of State for Arms Control and International Security; Ambassador-at-Large Grigory V. Berdennikov, Ministry of Foreign Affairs of the Russian Federation; Mr. Joseph Benkert, U.S. Principal Deputy Assistant Secretary of Defense for Global Security Affairs; Ambassador Jiri Sedivy, NATO Assistant Secretary General for Defense Policy and Planning; Mr. Peter Flory, NATO Assistant Secretary General for Defense Investment; and Ambassador Rogelio Pfirter, Director-General, Organization for the Prohibition of Chemical Weapons.
The panel has been asked to address issues including (a) How do different countries view the risks of WMD proliferation? (b) Which threats seem to be the gravest? (c) Is a nuclear device (or radiation bomb) the principal concern—or are countries more worried by chemical threats, biological threats, or even high explosives? (d) Within governments, is it possible to rank or prioritize the risks, or are there simply too many differences of perception among ministries and agencies—or do priorities simply change too rapidly in response to a steady stream of unexpected news and shifting public reactions? (e) What approaches, including strengthened intelligence, seem to work best? (f) Should risks be addressed at remote distances, the view of some countries including the U.S., or should the highest priorities be domestic? (g) Are current approaches effective or have they merely been fortunate?
Since these speakers are among the leading international experts, I refer you to their workshop presentations, which appear in the chapters below. I believe that you will find them provocative and insightful.