Ambassador Ranko Vilovic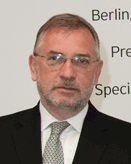 Ambassador Ranko Vilović
Croatian Ambassador to the United Nations
Follow-up Discussion on Achieving Security and Prosperity in the Balkans and the Black Sea Region
Our presenters have been asked to talk about the Balkans and the Black Sea region, and you have already heard presentations about the Black Sea region. Since my country does not geographically belong to that region, I am going to limit my remarks to those on the Balkans region, more specifically to the western Balkans or, as we prefer to call it, southeastern Europe.
REGIONAL COOPERATION IN SOUTHEASTERN EUROPE
You are all aware of the bloody conflict that took place in the region 15 or 20 years ago following the dissolution of the former Yugoslavia. Now we are witnessing a process through which the countries of southeastern Europe are reaching a level of stability and security that is truly remarkable, and we all feel that military conflicts are a thing of the past and are not likely to happen again either now or in the future. I base this belief on the fact that there is not only rapidly developing cooperation between the countries that is moving along on a really good track, but that this cooperation is more than pure political cooperation. We are seeing military arrangements, cooperation between armies, and cooperation between law-enforcement authorities regarding trafficking, smuggling, and organized crime. We are also seeing cooperation in many other areas, including culture and tourism. So our efforts are truly going in the right direction.
I also base my belief that military conflicts are a thing of the past in the region on the fact that we have an overall security structure there. Some of our countries are now members of NATO, namely, Slovenia, Croatia, and Albania, not to mention other members, including Turkey, Greece, Bulgaria, and Romania, that are not from the western Balkans but are from other parts of the region. We also have one country on the verge of entering NATO, namely, Macedonia, which was mentioned recently in terms of the need to solve the issue of the country's name, which is the only issue that hinders its further development. Another country that has made remarkable progress toward and has expressed a strong will to join NATO is Montenegro, and other countries have taken important steps in that direction as well, including Bosnia Herzegovina. So this security architecture is creating a basis for long-term optimism.
GLOBALIZATION AND THREATS
It was mentioned earlier that countries of the region participate in various peacekeeping operations around the world under the U.N. umbrella. I would particularly like to single out Afghanistan, which is the most comprehensive and the most serious operation so far to which contributions have been made from our region. Of course, we are aware that not all security threats are behind us. We have talked about globalization for at least the past 15 years and are so used to it that we do not even mention it any more. But along with all its excellent aspects, globalization has also globalized threats, and those threats exist in our region as well as the rest of the world. So we are not isolated from them, including:
Organized crime and corruption—these are big problems that we are fighting in our region and around the world
Trafficking, not only in arms but in drugs and in people—we are on the trafficking route so it is a threat
Energy security—this is also a possible security threat
Proliferation
The financial and economic crises that have hit all the countries—in more vulnerable countries like those in our region, these crises are a major threat, because, in times of financial crisis, people tend to be more vulnerable to radicalization, not only political but also ideological and religious.
ACHIEVEMENTS AND STALEMATES IN KOSOVO AND BOSNIA HERZEGOVINA
I would now like to single out two spots: Kosovo and Bosnia Herzegovina.
Kosovo has been recognized by a majority of European Union countries and others around the world—62 altogether. We have seen that there is stability there so far, and a significant presence of the international community, EULEX, and UNMIK. But the major threat there is to overall development, by which I mean not only economic development but primarily the development of the rule of law, human rights, and institutions and national capacities.
In Bosnia Herzegovina, stability and security have been achieved, but we now see a stalemate in the political processes, which has lasted a long time. We are waiting for the elections in October 2010, and hope that the processes will then move further ahead. We also are seeing continued nationalistic rhetoric in that country. In addition we see problems with the return of refugees, particularly in Republika Srpska. As well, economic growth is practically nonexistent, and we also see political pressure being applied, including threats to organize a referendum on the secession of Republika Srpska. That could open a Pandora's box, including the rethinking of the Dayton Agreement, and I think this should not be allowed.
CONCLUDING REMARKS
It is clear that we still need international involvement. We have given our support to the work of the Office of the High Representative and to the High Representative's involvement, but I would like to stress the responsibility of and the potentially stabilizing activities of neighboring countries. Here I see the role of my country, Croatia, as a crucial one. Our policy toward Bosnia is based on three pillars: Sovereignty and territorial integrity, equal rights for all three constituent peoples throughout the territory, and support for the Euro-Atlantic integration of the country. Croatia is working toward these goals, and I want to stress that Croatia has absolutely no hidden agenda here. I hope that the other countries in the region will follow our lead.
The question is, "Can the two regions, the Baltics and the Balkans, help each other?" Our histories are very different, but we have the future in common. I tend to answer the question by saying that, yes, there are aspects with which we can help each other, but, in general terms, my answer is no.