Ms. Teresa Gera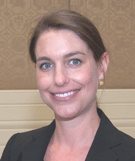 Ms. Teresa Gera
Executive Director, Global Reach
Civil-Military Partnerships—Some Guiding Principles for Success
The military and NGOs are going to be placed in situations in which they need to work together. Therefore, I would like to quickly highlight the role of civil-military partnerships and discuss some recommended guiding principles for planning the implementation of successful partnerships.
THE NEED FOR CIVIL-MILITARY PARTNERSHIPS
Partnerships address a unique issue: The need to coordinate many disparate organizational efforts to alleviate suffering in order to reduce waste and error, eliminate duplication, and deliver exactly what vulnerable people need when they need it. The mission of Global Reach is to influence change, foster innovative partnerships, and encourage integration between governments and private and public sector communities to increase the resources available to those in need. Our vision is to provide a forum for dialogue between the private and public sectors, identify opportunities for collaboration and sustainable development that keep the recipients of need at the top of our minds, assist those who wish to engage in partnership opportunities, and serve as a trusted intermediary that brings together those responding to humanitarian needs.
THE PARTNERSHIPS' ROLE
There are four key partners in any of these responses:
Non-governmental organizations, or NGOs. They are on the ground. They know the communities, have the best understanding of the needs that are there, and know what is needed immediately and what can be provided once that immediate need is met. They also have the local resources and contacts that can help humanitarian efforts in times of crisis. More importantly, they can help sustain the benefits achieved from humanitarian efforts.
The military, which is key to making a society more secure and understands that this relies on meeting the humanitarian needs of a population.
Corporations. Corporations will ultimately benefit from stable governments and societies through the creation of new and developing markets. They cannot be ignored, and serve as a valuable resource.
Government agencies such as the U.S. State Department, the Department of Defense, and USAID have constituencies that focus on public-private partnerships. We have already seen examples of these partnerships in Haiti, Afghanistan, and other places around the world; we have seen how effective these partnerships can be. The Gulf of Guinea, a big oil producer, is one geographic region that can provide an example of how NGOs, government, and the private sector can integrate their capabilities in new ways to maintain stability and enhance the economic viability of a volatile region.
For example, in Nigeria, one single country in the Gulf of Guinea, there is great need as well as the potential for sustainability. With a population of over 150 million people, the literacy rate is 68% and the per capita income is US$2,400. Life expectancy, however, is only 47 years. The region has the resources to become self-sustaining: It is Africa's largest oil producer and there is extensive foreign investment there. Despite that, Nigeria has real humanitarian needs: 70% of the population lives below the poverty line, and almost 3 million live with HIV/AIDS. The country cannot sustainably establish stability and economic growth while its people lack fundamental health and education services. Among stakeholders who are active in the region, we can see that sources of relief include active and ongoing NGO programs, the private sector, the oil sector, and partner governments along with assistance programs and military programs.
GUIDING PRINCIPLES TO IMPLEMENT SUCCESSFUL PARTNERSHIPS
To aid in the delivery of humanitarian assistance and to maximize the resources made available by NGOs and the military, we recommend establishing civil-military partnerships in advance of emergency situations to help ensure that activities are not replicated, that early and involved planning is in place, and that tools are made available for the implementation and evaluation of the project. In order to do this, Global Reach has identified emerging guiding principles for the delivery of humanitarian aid through civil-military coordination.
1. Determine and agree upon the goal and scope of the humanitarian assistance project.
2. Define and agree on clear expectations, roles, and responsibilities.
3. Agree to financial practices.
4. Determine lead partners.
5. Assess the relationship and reputation capital of each partner.
6. Establish a system for frequent and meaningful communications.
7. Discuss openly and agree on how credit and acknowledgment will be given publicly.
8. Establish an exit strategy for all partners.
9. Evaluate the project.
These guiding principles can be adapted as a basic framework to build successful civil-military collaborations. Of the nine principles, eight are related to the formation of a partnership, underscoring the importance of building a strong foundation from which to proceed. Among these, the pre-assessment of each member's involvement and the definition of roles are fundamental to success. However, when working in conditions as uncertain as those following a disaster, flexibility is also crucial to sustain the partnership.
CONCLUDING REMARKS
We are working now on demonstrating how better communication, collaboration, and preplanning between willing NGO and military sectors can increase the effectiveness of humanitarian assistance delivery. Finally, it is important to note that, through careful and planned partnerships, a holistic approach, and integrated response, we all have the ability to improve the living conditions of those in need.