Rome '08 Workshop
Workshop Chairman's Overview: In Search of a New Vision
Dr. Roger Weissinger-Baylon
Workshop Chairman and Founder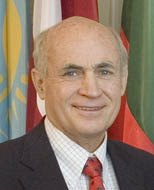 At the 25th International Workshop on Global Security, held in Rome in June 2008, Admiral Giampaolo di Paola—the incoming chairman of the NATO Military Committee (and the workshop's honorary general chairman)—gave the opening address, followed by key presentations by Italian Defense Minister Ignazio La Russa (workshop patron), British Defense Minister the Rt Hon Des Browne, Turkish Defense Minister Vecdi Gönül, Georgian Vice Prime Minister Giorgi Baramidze, Italy's Chief of Staff General Vincenzo Camporini, and other leaders, including Finmeccanica's COO Giorgio Zappa. NATO's former Supreme Allied Commander Europe General George Joulwan then led a dinner debate that addressed fundamental issues, including the vital importance of NATO's relationship with Russia.
During the two and one-half days of workshop discussions, these speakers were joined by more than forty others, including senior diplomats—with ambassadors to NATO, the EU and the U.N.—and some of NATO's most senior four-star flag and general officers, i.e. SHAPE Chief of Staff General Karl-Heinz Lather, Allied Joint Force Commander Naples Admiral Mark Fitzgerald, and Deputy Supreme Allied Commander Transformation Admiral Luciano Zappata.
THE NEED FOR A NEW STRATEGIC CONCEPT AND A COMMON VISION FOR THE TRANSATLANTIC RELATIONSHIP
British Defense Minister Des Browne describes the "need to reform our international institutions in the light of the global challenges we face" and calls for countries to "focus on the transformation of NATO. While recognizing NATO's remarkable successes, he believes that fundamental changes are necessary:
...reform should take us towards three clear objectives for NATO: well-planned and well-managed operations; an ability to help identify and deliver the capabilities needed to support both current and future operations; and a framework of partnerships that will allow us to work with others who share our interests and can contribute to them including as part of a more comprehensive approach.
Minister Browne further argues, "We need to help the Alliance understand better its real priorities, and then encourage it to focus and organize itself to deliver them most effectively." Speaking along the same lines, Admiral Di Paola says that we have "a responsibility to think through all the key issues" that affect our global security so that the Alliance can develop "a new strategic concept based on a common vision for the transatlantic relationship."
Which Threats Present the Gravest Risks?
In the search for a new strategic concept, a common vision, and a reformed and transformed NATO, Estonia's Defense Minister Jaak Aaviksoo argues that security is "much more a subconscious feeling than the result of some rational argument." According to Minister Aaviksoo, "A lot of what we do in defense, at least on the political level, is very much related to our perceptions of threats. . .and that some of the problems we face in global as well as regional security are sometimes diversions of these perceptions." He also warns that "we perceive the threats differently—some as real, some as less real—and that creates a number of problems and misunderstandings." Italian Chief of Staff General Camporini, who was the first workshop speaker to emphasize the need to think through the concept of security, warns that it is not enough to simply seek security as an end in itself:
Even a superficial analysis reveals that…the search for security is at the origin of most of the forms of violence…Even World War II was justified in this way: Hitler wanted the 'vital space' [liebensraum] for the Third Reich, the space which was needed to make Germany feel secure…Why do I tell you this? Simply because I want to warn you against the belief that the use of the term 'security' is sufficient to grant legitimacy and legality to any action and intervention.
For this reason, it is vital to consider which threats present the greatest risks to our security, to prioritize them, and to address them in the wisest and most effective ways.
In calling for a new NATO strategic concept, Admiral Di Paola expresses particular concern for several challenges:
Pressures on the earth's ecosystem. Such pressures often lead to hunger; scarcity of oil, water, and other natural resources; and effects on global warming and climate change. At the time of the workshop, when energy prices were near their peak, Minister La Russa put "scarcity of energy resources at the top of the list." He warned that "today's energy prices are not only a danger, but a true and direct threat to the orderly functioning of our communities."
Demographic growth. The world's population is expected to grow by several billion during the coming decades, and the world's largest cities are now found in India, Pakistan, China, Russia, and Korea; Istanbul and Cairo are already far larger than major western capitals such as New York and London.
Increasing income inequality. When "increasingly large numbers of people have absolutely nothing," Admiral Di Paola suggests that conflicts may be inevitable. As Egyptian Ambassador Mamoud Karem points out, "The feeling of insecurity is pervasive, with 40% of the world's population living below the poverty line of $2 per day."
Rapidly evolving information technology. This challenge is truly revolutionizing the way work is done. In fact, the Internet continues to introduce fundamental changes in the relationship between people and their governments. According to Estonian Defense Minister Jaak Aaviksoo, "The Internet provides open access to information, which is the best instrument for undermining totalitarian systems." IT may even be changing the way governments operate.
Loss of sovereignty. Because of membership in organizations such as the U.N., the EU, NATO, the IMF, or WTO, Admiral Di Paola points out, countries are often left with a "dilution of sovereignty" and, consequently, often have far more limited options than is generally realized to address fundamental problems.
These factors, together with such problems as regional or interstate conflicts, hunger, disease, migration, environmental dangers, and organized crime, drive traditional security challenges, including "terrorism with weapons of mass destruction, nuclear proliferation, and the radicalization of ideologies or religions." In describing the present challenges, British Prime Minister Gordon Brown emphasizes:
- The globalization of the economy
- The threat of climate change
- The long struggle against international terrorism
- The need to protect millions from violence and conflict and to face up to the international consequences of poverty and inequality
The Speed and Span of Change
In discussing the new global challenges, Prime Minister Brown calls attention to "their scale, their diversity, and the speed with which they have emerged." In fact, as Admiral Di Paola observes, these challenges are magnified by the "speed and span of change." While we are accustomed to dealing with change, we "tend to adapt to change rather slowly" and, unfortunately, the speed of change is now extraordinary. Italian Defense Minister La Russa, describing the difficulties in dealing with the speed and span of change, emphasized that politicians need much more time to make and implement decisions effectively:
We need time! The time we have for crisis management and resolution no longer matches the time required to actually solve such crises. The time we are given by politicians, the media, and western society is incompatible with the time a crisis takes to spread out, be tackled, and solved.
Turkish Defense Minister Vecdi Gonül, at a workshop planning meeting in Ankara, Turkey, suggested that it is impossible to predict the kind of crises that will arrive in the near future. As an illustration of the speed and span of change, less than six months after the Rome workshop additional challenges to global security have already emerged:
The Russia-Georgia conflict. Georgia's attack on South Ossetia on August 7, 2008, sparked a brief but intense military conflict between Russia and Georgia, during which Russia was widely accused of overreaction. As a result of this conflict, as well as growing Russian resentment over the planned ballistic missile defense installations in Hungary and the Czech Republic, there is risk that Cold-War tensions between Russia and the West could return. As to the Georgia-Russia conflict, there were already signs of deep tension between the parties during the Rome workshop. Georgia's Vice Prime Minister Giorgi Baramidze warned:
...Russia would redraw the map of Eastern Europe and risk an armed conflict. Rather than fulfill its role as a peacekeeper and a mediator in Abkhazia Georgia, Russia has become a party to the conflict. Withdrawing from the 1996 CIS embargo that banned weapons transfer to the separatist rebels in March, extending legal recognition to Georgia's separatist territories with the April 16 presidential decree, shooting down in Georgian air space an unmanned and unarmed surveillance drone of the ministry of internal affairs of Georgia on April 20…, and introducing the Russian Ministry of Defense's so-called railroad troops in May all offer clear evidence of Russia's intentions.
As to the hotly contested ballistic missile defense installations, Russia may have at least some reason for optimism, since U.S. President-elect Obama has not expressed support for the proposal. In the meantime, Ambassador Chizhov, Russia's representative to the EU, sums up Russia's opposition and concern:
...another element which also proves the existing continuing fragmentation of security space is the famous—or infamous, depending on your point of view—third ballistic missile positioning area in Poland and the Czech Republic, which I would describe as an attempt to deploy an untested system of questionable reliability against a nonexistent threat.
The sub-prime crisis and global recession. The sub-prime crisis is developing into a full-blown global recession—perhaps the deepest in 75 years. Its resolution may be especially challenging because the underlying financial causes are not yet fully understood. Princeton University's Paul Krugman, winner of this year's Nobel Prize in economics, lays most of the problems on the doorstep of the huge "shadow banking system" that lies completely outside regulatory structures. The current crisis is extraordinary not only in its scale, but in the rapidity with which a global recession of great magnitude has emerged, the scale and complexity of the policies that will be needed to turn the crisis around, and the extreme uncertainty of the effectiveness of proposed policies.
Cyber-war. In what may be an emerging pattern during international conflicts, the military conflict between Russia and Georgia was accompanied by cyber-attacks against Georgia's Internet infrastructure, and several important Georgian government Web sites were blocked or compromised. In the U.S., defense-related sites seem to be under almost constant attack. Dealing with these challenges often requires international cooperation and raises complex political issues. Defense Minister Aaviksoo describes some of this complexity:
...Whenever there is [cyber-space] policing, individual rights are infringed upon, and this is always a high-profile political issue. So how can we enforce traffic rules? Can we impose hardware and software on the Internet?...And who is responsible for enforcing the rules? What are the legitimate means of counter-attacking even when we are able to identify the possible intruder? Since most attacks are globally distributed, there is a legitimacy problem. To what extent will we be willing to tolerate infringement of national rules when there is a possible target in a third country?...Do we develop only reactive measures or do we devise and develop active cyber-crime prevention measures, including intelligence and other means?
In a North African context, Algeria's U.N. ambassador and former foreign minister, Youcef Yousfi, is concerned that "groups linked to Al Qaeda" are presenting real problems by "using web sites for recruitment, propaganda, and conducting attacks." Like Minister Aaviksoo, he says that "international cooperation is also needed to face this issue, and we need to think how we can develop such cooperation."
Among the gravest concerns, in the view of Microsoft's Tim Bloechl, "…would be efforts to quietly infiltrate infrastructure-related computer networks and, when the time is right, to execute attacks to disrupt or render inoperative elements of the infrastructure." He also warns:
If such attacks are carried out by terrorist organizations that do not identify themselves as the source of the attack…how would we respond?...Would the circumstances of the attack present a casus belli? And who would we counterattack if it did? And what ROE would we employ as part of such operations?
According to Robert Lentz, the U.S. Deputy Assistant Secretary of Defense for Networks (NII), the threat is increasing rapidly. He warns:
our dependency on this network, all the information that flows on it, all the platforms that are now tied to it, and all the business systems and economic systems that are linked to it, make it imperative that the cyber-defenders and -protectors do their job effectively.
His overall judgment is not encouraging: "At this point in time," he says, "I think the assessment is that we are really losing that battle."
Unexpected, Unrecognized, or Underestimated Threats
Fading or intermittent threats. Rapid change is characterized not only by the arrival of new and often unexpected threats, but also by the speed with which many issues simply fade from view—or appear only intermittently: Concerns over anthrax, the avian flu, the Asian tsunami, and hurricane Katrina have been eclipsed by the more recent crises, although those issues may well return at some point.
Unrecognized or underestimated threats. In addition, there are serious issues that policy makers have been reluctant to recognize as crises or that have not yet been assigned the importance they merit:
Consequences of cyber-crime. While Admiral Di Paola lists information technology as one driver of security challenges, the international community seems to underestimate or ignore the economic and social effects of cyber-attacks, malware, and computer-related crimes. In fact, these crimes are often of the same order of magnitude as illegal drugs and, as indicated above, are potentially even more dangerous.
Piracy at sea. The recent capture of a Saudi supertanker off the coast of Somalia highlights the reality that piracy at sea is increasingly brazen and could become a significant security threat. Already, the African Union has asked the U.N. to send peacekeepers to Somalia and calls have been made for NATO intervention. According to the Kenyan government, ransoms over the last year exceeded $150 million, which potentially gives pirates resources with which to increase their capabilities. These funds also might be used to support the activities of Islamic fundamentalists. On the other hand, some Islamic groups in Somalia are seeking to interfere with the pirates' activities, which they consider to be non-Islamic.
Religious fundamentalism. While September 11 and a vast number of Al Qaeda-related attacks throughout the world—from Madrid to Indonesia—clearly demonstrate that radical Muslim beliefs can represent a grave danger to our societies, it would be an unpardonable mistake to consider all Muslims as threats. At the same time, the religious conservatives in many western countries—including evangelical Christians, Catholics, and Jews—are seeking to acquire political power in the name of such beliefs as opposition to the teaching of evolution, stem cell research, abortion, and gay marriage as well as support for Israel's recovery of its so-called Biblical lands. Many of these groups are among the strongest advocates of aggressive military policies.
Unintended policy effects of western governments and international organizations. Many of the most harmful economic and social problems that contribute to extreme income inequalities and poverty originate in the policies of western allies in the Middle East, in European and North America countries, and in powerful international institutions such as the EU, the World Bank, the IMF, and WTO.
"Disinformation" by the media. At least in the U.S., news media have often distorted news, causing the public to be badly informed on important policy issues. As an admittedly extreme example, a large percentage of Fox News viewers in the U.S. were convinced that the September 11 attacks were orchestrated by Al Qaeda in Iraq, when in reality Al Qaeda had virtually no presence whatsoever in that country.
Africa as a forgotten continent. According to Ambassador Youcef Yousfi, "Africa is the forgotten continent. The international community looks at disasters, the wars, the diseases, and the lack of development there without any reaction.…in Somalia, Sudan, and the Democratic Republic of the Congo, the international community is unable to make decisions…" According to reports from a delegation that includes former U.N. Secretary General Kofi Annan and former U.S. President Jimmy Carter, the current Zimbabwe crisis is more serious than imagined, with up to five million in need of food.

Health care issues. As Minister La Russa points out, health care in Afghanistan is one of the many endemic problems (education is another) for which improvements are vitally needed, since "the more able Afghanistan is to stand on its feet, the more likely our intervention there is likely to be considered a success." Health care issues are of critical importance in developed countries as well. In the U.S., for example, obesity is reaching such proportions that it already constitutes a grave health problem, and it seems to be spreading to other countries. Although some may hesitate to consider obesity or other health care problems as security issues, more Americans are likely to die from obesity's direct and indirect effects than would be expected to die from the avian flu, terrorism, or even terrorism with WMDs.
Simultaneous crises. Ambassador Karem asks, "What might happen if a strong nexus develops between soaring food prices, energy sources, and a global water crisis? Could this be a recipe for a new war on a global scale?" As Minister La Russa points out, such simultaneous crises have already occurred: "…energy depletion is overlapping with food shortages…The causes of food shortages are substantially the same as those causing the energy crisis." Given the gravity of the current global financial crisis, the conditions for a "perfect storm" may already be in place.
Multiple Futures
In order to deal with the extraordinary speed and span of change, as well as the difficulty predicting issues and crises that can arise with relatively little notice, Admiral Luciano Zappata, NATO's Deputy Supreme Allied Commander Transformation, described a new project called "Multiple Futures," which involves:
….trying to illustrate the challenges that decision-makers may face, as well as their implications, and to better understand and analyze how we may best organize and equip our forces and define our future capability requirements. We will analyze the global trends and key drivers in the future security environment. This work will help us understand the resultant implications in terms of potential threats and risks to our populations and values, and then help frame the discussion on future challenges and military implications in terms of roles and missions.
The Multiple Futures project will help answer key questions, including "Which capabilities must we develop?" and "Within which timeframe?"
DEALING WITH THE CHALLENGES
Combating Weapons of Mass Destruction Proliferation
The executive summary of the report Commission on the Prevention of Weapons of Mass Destruction begins with the following warning:
"Unless the world community acts decisively and with great urgency, it is more likely than not that a weapon of mass destruction will be used in terrorist attack somewhere in the world by 2013."
Of all the challenges to global security, none is greater than the need to combat the proliferation of weapons of mass destruction. In fact, the concern for WMD proliferation is most likely at the heart of the wars in Iraq and Afghanistan, the concern over Iran's potential acquisition of nuclear technologies, and many other serious issues. In order to discuss the threat, Dr. James Tegnelia, director of the U.S. Defense Threat Reduction Agency, chaired a major panel with presentations by senior U.S., NATO, and Russian officials. The speakers were Mr. John Rood, U.S. Under Secretary of State for Arms Control and International Security; Amb. Robert Joseph, former U.S. Under Secretary of State for Arms Control and International Security; Amb.-at-Large Grigory V. Berdennikov, Ministry of Foreign Affairs of the Russian Federation; Amb. Jiri Sedivy, NATO Assistant Secretary General for Defense Policy and Planning; Mr. Peter Flory, NATO Assistant Secretary General for Defense Investment; Amb. Rogelio Pfirter, Director-General, Organization for the Prohibition of Chemical Weapons; and Mr. Joseph Benkert, U.S. Principal Deputy Assistant Secretary of Defense for Global Security Affairs.
As Dr. Tegnelia notes in his chapter below, the panel addressed issues including:
(a) How do different countries view the risks of WMD proliferation? (b) Which threats seem to be the gravest? ©) Is a nuclear device (or radiation bomb) the principal concern—or are countries more worried by chemical threats, biological threats, or even high explosives? (d) Within governments, is it possible to rank or prioritize the risks, or are there simply too many differences of perception among ministries and agencies—or do priorities simply change too rapidly in response to a steady stream of unexpected news and shifting public reactions? (e) What approaches, including strengthened intelligence, seem to work best? (f) Should risks be addressed at remote distances, the view of some countries including the U.S., or should the highest priorities be domestic? (g) Are current approaches effective or have they merely been fortunate?
U.S. Under Secretary of State John Rood lists some key elements of the threat:
Terrorism and the proliferation of weapons of mass destruction…represent the defining threat of our age. Irresponsible states are pursuing the capacity for weapons of mass destruction. North Korea has conducted a nuclear test, launched long-range ballistic missiles, and engaged in the proliferation of ballistic missiles and nuclear capabilities to other rogue states. Iran continues to support terrorist groups, to engage in sensitive nuclear activities in defiance of United Nations Security Council resolutions, and to aggressively develop ever more capable ballistic missiles. Syria also sponsors terrorism and came very close to completing a clandestine nuclear reactor, in violation of its IAEA obligations, that appeared designed specifically to produce plutonium for nuclear weapons.
Ambassador Bob Joseph, who was asked by Dr. Tegnelia to sum up the discussion, emphasizes the importance of political resolve, especially in dealing with Iran:
…we will not succeed without…the demonstration of political resolve over time…Iran is an incredibly complex problem but I think we know…what we need to do….There is no easy choice. Every choice that is out there for dealing with Iran in an effective way entails costs, but we must be willing to pay those costs.
Concerning Russia, Ambassador Joseph suggests:
…we need to ensure that there is mutual respect in our relationship with Russia. We need to build on opportunities with Russia, and the Global Initiative and the Nuclear Energy Initiative are two cases in which our interests coincide. But we also need to deal with Russia with a sense of resolve, resolve in the context of a commitment to our principles. . . of democracy, human rights, national sovereignty, and territorial integrity.
Responding to these threats will require international cooperation. According to U.S. Assistant Secretary of Defense Joseph Benkert, the key to success is partnerships with concerned nations:
What is to be done about these threats? The strategy for dealing with enemies who may not respond to traditional tools of deterrence requires that we build partnerships with nations who share our concerns about WMD terrorism. . . We, the United States, don't have the resources to do it alone, and we won't succeed if we try.
Regional Security
Security in the Balkans. Admiral Mark Fitzgerald, NATO's Allied Joint Force Commander in Naples and Commander of U.S. Naval Forces Europe, has a generally positive view of progress in the Balkans:
When I look at what has happened in the Balkans over the last few years, I think of how we have brought Croatia and Albania into NATO… and how we are pretty close to getting Skopje in there. And when I see that Bosnia is signing up with PfP and trying to gain MAP status, that Montenegro is coming along, and that Serbia is participating in PfP, I see the trend towards collective security on the EU side. I also see how the signing of Stabilization and Association Agreements (SAAs) is supporting economic stability. . .my headquarters is trying to figure out how we can provide the leadership to get that security sector reform piece. . .in place.…
Nonetheless, Admiral Fitzgerald remains extremely concerned about the situation in Kosovo. His concerns are based in part on the stagnant economic situation there, the dependence on funds arriving from the diaspora or by international military forces stationed in the country, and, especially, the prominent role of corruption and smuggling:
. . .We have been [in Kosovo] for 10 years; the situation is what I would call stagnant on the economic side of the house, with the highest unemployment in Europe—58%—and GDP growth is just starting to come up, now at 7%. . . Inflation is up to about 13%. Electricity is the lifeblood of the country, but there has been no new infrastructure put in there, and the people are still living with 1950s and 1960s technology…
[However, the] real issue in Kosovo in my view is not whether this is going to be a Serbian province or an independent country, but where are the people's next euros coming from?. . .The corruption, the smuggling, everything is eating into that country's quest to become an independent state. That is where I think we have failed over the last 10 years.
In assessing the causes of the situation in Kosovo, Finland's Ambassador Kirsti Lintonen, raises three questions:
- Is the mandate not clear enough? It is true that Security Council Resolutions are often a result of compromises. The now-famous resolution 1244 on Kosovo is not an exception. Clarity is therefore essential - especially on the operational level.
- Do the actors not have a common vision of the strategy and a shared starting position? If not, a comprehensive approach is badly needed, as well as a common understanding of the facts relating to the situation.
Are the actors duplicating each other's work or leaving things unaccomplished? If that is the case, coordination, leadership and a clear division of labour are needed.
- If the actors do not share a strategy in the beginning, how can they agree on timing and exit strategy? In today's world, the issues we face are complex, and cooperation of various organizations is desperately needed. At the outset, the organizations need a common strategy, a mutually agreed division of labour and a clear exit strategy.
Looking back on NATO's experience in Kosovo, SHAPE Chief of Staff General Lather's overall assessment seems less harsh than Admiral Fitzgerald's or Ambassador Lintonen's. General Lather emphasizes KFOR's successes in crowd and riot control and in guarding sites of religious and cultural importance:
In KFOR, and earlier in SFOR-IFOR, the biggest challenge was to build up crowd- and riot-control units' capabilities to deal with demonstrations, disturbances, and civil unrest. In some cases in which KFOR troops contributed, nations had to change national legislation to allow their forces to be equipped and trained for that task. Once achieved, this capability became what I think is a very powerful and effective deterrent. Also in Kosovo, KFOR had to secure and has to secure many patrimonial sites of religious and cultural significance.
Despite the above concerns (especially Admiral Fitzgerald's), Ambassador Tacan Ildem, the Turkish Ambassador to NATO, is clearly more optimistic about the future of Kosovo:
…Bringing about the independence of Kosovo was the culmination of a long, unique, and complicated process, and, to further consolidate stability in the region, we have to support Kosovo by all means as well as ensure the well-being of all the communities within its borders.
After the parliamentary elections in Serbia, we remain cautiously optimistic about the security situation in Kosovo. The determined presence and increased activities of KFOR have contributed to stability and security, but it is very important for all actors in theatre to assume their responsibilities and respective roles.
In the coming years, let us hope that the more optimistic assessment prevails!
Afghanistan and Pakistan. Afghanistan is NATO's most important operation. Consequently, a number of arguments and observations were made about its success and challenges, including a warning by British Ambassador to NATO Stuart Eldon, which we should heed:
…we must be honest about what we are doing. In essence, the international community is engaged in support of the government of Afghanistan…The Afghans must lead—it is, after all, their country—but the more we can tailor our support behind the government's efforts to exercise its authority fully throughout its territory, the more successful we will be.
There is no doubt that Afghanistan presents NATO with its greatest challenge. Italy's Military Representative to the NATO Military Committee, Vice Admiral Ferdinando Sanfelice di Monteforte, points out that the Afghanistan conflict is subject to the same difficulties experienced in counter-insurgency operations elsewhere, including in Vietnam:
Unfortunately—and Vietnam showed this at length—the more troops you pour into a theatre, the more the resistance stiffens, and you and your allies end up exhausted, unmotivated, and incapable of acting alone. Countering narcotics traffic in Afghanistan, therefore, will require a careful balance between the will to succeed quickly and the need to avoid transforming the Afghan operation into a fight in which the locals move increasingly to the insurgent side.
In an environment in which the opposition is land-heavy, there is no point in trying to match numbers by relying on superior firepower. Asymmetry is at the heart of this science, and the enemy's weak spots must be targeted. . .Sending more troops is a way to avoid deep thinking.
In the view of Ambassador Munir Akram, Pakistan's Permanent Representative to the United Nations, the U.S. relationship with Pakistan is currently "strained." Consequently, success in Afghanistan (and the tribal regions in Pakistan) will depend on rethinking the Pakistan-U.S. relationship as well as the security objectives for the region:
The political and operational challenges being confronted in the campaign to eliminate terrorism and to stabilize Afghanistan need to be addressed urgently through strategic dialogue between Pakistan and the United States. The U.S. and NATO also need to review their strategic objectives vis-B-vis Afghanistan and to redefine 'success.' They will:
1. Not be able to transform Afghanistan overnight into a modern democracy
2. Not be able to change the conservative Islamic ideology and beliefs of the people of Afghanistan
3. Not be able to eliminate or ignore the major power components in Afghanistan, especially the Pashtun tribes
The new strategy will need to be truly comprehensive, including political, economic, and military components.
In Ambassador Akram's view, there need to be fundamental changes in the approach to the conflicts in the region: there must be a new political strategy, a new economic strategy, and a new military strategy:
The political strategy should aim at reconciliation. It should be designed to:
1. Isolate the violent extremists from the moderate, non-violent, and non-involved majority
2. Win hearts and minds through practical assistance (health, food, housing, agricultural support)
3. Build peace through grassroots measures, district by district, village by village
4. Utilize traditional modalities, for example, the Jirga system, for dispute settlement and accommodation
The economic strategy should utilize the 'power of finance' to win the cooperation of tribal and local leaders, have urgently needed and locally required reconstruction and job-creation projects as the priority, improve transport and communications, encourage local entrepreneurship, and find a viable solution to the poppy problem, for example, buy up the crops of small farmers.
The military option should remain the option of last, not first, resort. While the larger presence of coalition forces may be required in the short term, given Afghan antipathy to foreigners, these forces should be progressively replaced with strengthened elements from the Afghan National Army, especially local militias. The major military targets should be Al Qaeda terrorists, hard-core militants, and criminal elements, not part-time (Taliban) fighters.
He further cautions that none of these strategies can succeed "unless governance and the system of justice are improved throughout Afghanistan."
Like Ambassador Akram, Egypt's Ambassador Karem sees "no military solution to the conflict in Afghanistan." Accordingly, he points out the need to deal with a large number of complex problems ranging from the nature of "law, education, and training" to the conflicts between "western-style democracy, rural tribal ethics, and "Islamic values":
…we must still agree on what constitutes the rule of law, education, training, and so on. Which is more applicable, western-style democracy or rural tribal ethics as well as Islamic values that have been in existence for centuries?. . .Uprooting or uplifting national values should not be the mission of NATO. In the meantime we cannot be selective or apply double standards. Take the case of drugs and opium in Afghanistan. If the nexus between crime, terrorism, small arms and light weapons, and drugs has existed for a long time, why is it today, after the coalition forces have been present for a long time, that we still argue that this is a social problem that relates to common trade and social values and leave it to grow and worsen?
As Ambassador Karem notes, there are high expectations and hopes that "coalition forces would bring in order to end the vicious circle."
A Russian perspective. Since Russia has made important contributions to the fight against the Taliban, its views need to be taken into consideration. Despite the many successes achieved by the U.S., its coalition partners, and NATO in Afghanistan, Lieutenant General Evgeniy Buzhinsky of the Russian Defense Ministry expresses some concern as to the slow pace of progress and other issues:
…despite the considerable time that has passed since the failure of the Taliban regime, . . . we cannot yet speak about real improvements in the environment there. Frankly speaking, the influence of the central government is limited to the Kabul area—the new Afghan authorities still do not control other parts of the country. As for the country's economy, it exists only because of foreign donations and the opium trade. But the growth of Taliban activity is even worse than that.
In our opinion, there can not be only a military solution to the Afghanistan problem. A balanced and flexible approach that takes into account both the realities of the country and the mentality of the Afghani people is necessary.
Since Russia has demonstrated a desire to assist the Afghan government (including approximately $200 million in military aid), General Buzhinsky regrets that his country's efforts are not more appreciated. Examples of Russian disappointment include "…a pilot project of providing Russian aid and counsel concerning professional training of drug-fighting structures in Afghanistan and central Asia." Russia also regrets "…Kabul's refusal to send Afghan cadets to a drug counter-action course."
Civil-Military Integration
Since local governments and NGOs play a key role in most operations, successful civil-military integration is vital. Nonetheless, as former SHAPE Chief of Staff General Rainer Schuwirth points out, there is still much to learn despite many years of experience in working with NGOs:
…when you look into lessons learned, you find deficiencies in areas such as the quality of situational awareness; the seamless dissemination and sharing of information by actors; the scope, speed, and quality of interdisciplinary planning and decision-making processes; effective linking of political and operational (civil-military) action in a crisis area; coordinated information management up the chain of command; and coordination among international organizations, local actors, and NGOs.
Another military point of view is offered by General Karl-Heinz Lather, General Schuwirth's successor as SHAPE Chief of Staff. General Lather emphasizes that "international peace forces are not usually deployed alone." Consequently, they need to cooperate with local governments and NGOs:
Each of these organizations addresses specific target areas and develops its own mostly independent lines of operation. Experience tells us that there is really a need to coordinate all these activities in theatre, to deliver a comprehensive and even-handed approach to the conflicting parties. …Recently, we developed the concept of liaison and observation teams in Bosnia-Herzegovina and liaison monitoring in Kosovo…not only to deal with representatives of the local populations but also to coordinate with other organizations working in the same area.
Viewing civil-military interaction from an opposite perspective—that of an NGO that has been involved in crises worldwide—Global Impact's CEO, Renée Acosta, offers several observations as to how crisis situations might be handled more effectively:
Rebuilding as it was, not as it could have been. "There is a flaw in the rush to provide aid. For example, in the aftermath of the tsunami there was enough money in contributions that the region could have leapfrogged to having schools wired for computers. Instead, the area was rebuilt as it was, not as it could have been."
Relief may be perceived as aiding the enemy. "For NGOs the only question is how to offer aid, and that aid is offered with a blind eye to the belief systems or actions of those in need. To others that aid could be considered 'aiding and abetting the enemy.' This is a real point of contention when it comes to working collegially with the government."
Safety concerns when NGOs work with the military. "Some NGOs feel that being identified with any government or the military of any country endangers their programs and their safety. On the other hand, in the toughest spots on earth, safety and security need to be provided." As an example, Renée Acosta gives her organization's experience in Afghanistan: "Of the organizations [that] Global Impact funds, 18 NGOs are supporting 58 programs, 2 of which have closed because of safety concerns. In Iraq, 6 organizations are supporting 17 programs and another 6 have closed because of safety concerns."
NGOs' concern for impact on their funding streams. "Part of the friction we've encountered as we launch Global Reach inter alia is the perception on the part of some NGOs that having the military move into development and sustainability will somehow upset their funding streams and control over their world."
The Role of Industry
The challenge of transatlantic defense industry cooperation. As leader of the defense industry panel, Alfred Volkman summarized the challenge that both government and industry face in supporting the actual warfighters, the military:
Most nations are now actively engaged in a war against terrorists, but many nations believe that they also must be prepared to fight conventional wars against nation-states. How do we balance the resources that we have to wage the battle against terrorism, the long war that we will be fighting against terrorist threats, with the legitimate need to think about how we must defend ourselves in a more conventional war against traditional nation-states?
As Mr. Volkman points out, this can lead to serious difficulties, with vital programs encountering long multi-year delays:
In NATO, for instance, we have been trying for over 10 years to get a ground surveillance capability. I would contend that this is because we cannot strike the right balance among industrial participation by nations, military capability, and the cost that is required to provide this kind of capability—a problem we need to address.
Speaking from a European perspective, Thales's Senior Vice President Edgar Buckley adds:
...we need to push ahead with building a strong European defense…At the same time, we need to strengthen transatlantic defense industrial cooperation, including taking steps to streamline, simplify, and make more logical and efficient the regulatory prices on both sides of the Atlantic where security allows.
In line with Dr. Buckley's call for a stronger European industrial base, EADS Vice President Thomas Homberg proposes the following seven points necessary to achieve progress:
1. Consolidation of demand…contributing to a real transatlantic and global effort
2. Harmonization and privatization of requirements to strongly support industrial rationalization
3. Common programs and real work sharing, most probably based on centers of excellence
4. More focus on, more coordination of, and most probably more money for research
5. Common programs based on common standards to optimize the warfighter's efficiency
6. Good and open access to government defense and security planners and their concepts
7. Access to lessons learned from exercises and operations to…push forward and optimize industrial solutions
According to Northrop-Grumman's Tim Shephard, globalization adds additional complexity to the issue of international defense industry cooperation. He offers the recent U.S. Department of Defense tanker contract as an example:
…a Northrop-EADS bid to bring 48,000 jobs to the American south was questioned by elements in America who championed a competitor's bid. That competitor would build or source much of its own tankers outside America, principally in Europe, ironically, through its commercial partnerships there, but the bid may paradoxically include component subsystems from as far away as China.
R&D investments. Recognizing the importance of R&D investments, Finmeccanica's Dr. Zappa points out that his company "…invests about $1 billion a year in research and development activities—14% of revenues." This extremely large proportion of revenue gives his company a strong competitive advantage in the marketplace.
In addition, Lockheed Martin's Dr. Scott Harris calls attention to the need for European countries to increase their investments in defense R&D even further:
…Without sufficient resources, we will be unable to continue to advance transatlantic defense cooperation. Meaningful collaboration becomes more difficult, emerging technologies are concentrated on one side of the ocean, the workforces do not have comparable skills. . . There is no substitute for real expenditures on tangible programs if the health of European industry is to be preserved and if further transatlantic cooperation is to be possible.
LOOKING AHEAD
The Need for Countries to Work Together
In order to address the "new risks and threats," Turkey's Defense Minister, Vecdi Gönül, warns that "no nation has enough power and capacity to cope with them alone." In fact, Deputy Supreme Allied Commander Zappata sees our future as "dense in risks," but, at the same time, "every risk is a hidden opportunity." He says, "The scarcity of resources and threats to our peoples must become a factor of unity. The world is so little that everybody can now rock the boat!"
Consequently, coordination and cooperation have become more important than ever for international security. Former SACEUR General George Joulwan, in concluding the workshop's opening dinner debate, which he led again this year, emphasized the need for countries to work together—including with Russia:
The great nations and the great institutions—and that includes Russia and all of the nations of NATO—need to work together, whether they like it or not, to find the way. If they don't, then all we have sacrificed is at risk.
The Importance of Effective Leadership from the New U.S. Administration
It is clear that much will depend on the effective international leadership of the new U.S. administration, which will face simultaneously the enormous domestic challenge of an economy that is entering a recession of such unprecedented proportions that the U.S. budget deficit for the coming year could approach $2 trillion.
Fortunately, the improved security situation in Iraq—together with the fact that U.S. Defense Secretary Robert Gates will stay on for the first part of President-elect Obama's term—will undoubtedly make it easier for Mr. Obama to follow through on his promise to withdraw troops from Iraq (and presumably move some of them to Afghanistan to fight the Taliban). In addition, the immense costs of the sub-prime crisis as well as the severe effects of the spreading and deepening global recession are putting the world's political leaders under increased pressure to limit the economic and social damage to their countries, achieve positive results in whatever areas they can, and explore all possible means of doing so.
In such a context, many international leaders can be expected to support Mr. Obama's stated intention of employing when possible diplomatic means, instead of mainly military ones, to address international conflicts, and there are already encouraging signs that this is happening: Turkey, which has significant economic ties to Iran, has floated the idea of trying to help achieve better relations between its neighbor and the United States. Similarly, EU President Nicolas Sarkozy, in order to reduce tensions with Moscow, has encouraged the Czech Republic and Hungary to reconsider or delay their ballistic missile defense installations. Likewise, Italian Prime Minister Silvio Berlusconi has offered to help use his strong personal ties with Presidents Bush and Medvedev to smooth U.S.-Russia tensions, while Afghan President Hamid Karzai has offered to negotiate with the Taliban. Israeli President Shimon Peres has expressed confidence in his country's ability to achieve peace with the Palestinians.
Some of these intentions may be overly optimistic, and none seems to be bearing fruit as of yet. Nonetheless, a large reservoir of goodwill appears to be awaiting the newly elected U.S. president when he takes office on January 20: Let us hope he will take full advantage of it!
Inspiration from Ataturk—Humanity as a Single Body
Because Turkish Defense Minister Vecdi Gönül invited the coming 26th International Workshop on Global Security to Istanbul, it is appropriate to conclude this overview with a quotation from Ataturk, the founder of modern Turkey, whom Minister Gonül cited in his Rome workshop address:
We should consider humanity as a single body and a nation as one of its organs. Pain on the tip of a finger is felt by all other organs. Therefore, we should see all nations as part of a single body and then take the necessary precautions.