Lithuanian Ambassador Linas Linkevicius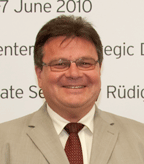 Ambassador Linas Linkevičius
Permanent Representative of Lithuania on the North Atlantic Council
Global Security—the Way Ahead
OPENING REMARKS
Many challenges of today can be characterized as shockwaves that remain from the much larger conflicts of the past. The tendencies of global terrorism; narcotics, weapons, and dangerous materials proliferation; and persisting frozen conflicts and the attempts to solve them by force remain issues of great concern. NATO today is adapting itself to deal better with these and other challenges: Its adapted tools, formats, and policies should be defined in the new Strategic Concept that will be issued by the Alliance in November 2010 in Lisbon. In the new Strategic Concept the Alliance will reconfirm its core task of defending its members, define partnerships, and outline its view on the role of dealing with ever-more-global insecurities.
As a representative of a country whose name has been in use for 1,000 years, yet has constantly flickered on the political map and recently experienced the dramatic shift of joining structures that my own generation deemed out of imaginable reach, I would argue that lessons of history should be taken into account as we make our decisions.
ENSURING NATO MEMBERS' SECURITY
The first and foremost conclusion NATO should draw is that ensuring its members' security remains a paramount task. Both Cold War and post-9/11 experiences have shown that the security and defense of Allied nations allow broad political, economic, and social recovery, and provide assurance of stability and insurance against irreversible destruction. More importantly, the resolve to defend each other underpins our values of human rights, social justice, liberty, and democracy.
REACHING OUT TO PARTNERS
A second important consideration is to reach out to other partners, nations, and organizations that are willing and able to engage with Allies in the pursuit of common interests and objectives. Even during the Cold War years, it was well understood that security cannot be created in a vacuum. Today we are still engaged in building a Europe whole and free that does not begin or end with NATO membership. To be secure, NATO needs partners. Undoubtedly, partners bring enormous added value to NATO's business by contributing to NATO-led international missions, supporting them through logistical and political means, and providing useful ideas and technologies. At the same time, partnerships are mutually beneficial. Political dialogue and practical cooperation with partners enhance security and stability in the entire Euro-Atlantic area and beyond.
While some partners have chosen to become NATO members, others have not. This must be respected, and should not by itself imply any disadvantage in security terms or in limitations to their political reach. From the very beginning of the Alliance, it was clear that NATO is to pursue mutually beneficial practical cooperation with other non-member Europeans, such as Sweden, as far as there are mutual interests. Now the partnership network has expanded to the benefit of NATO as well as partners. Internal NATO decision-making is and will always remain a matter for the Allies. However, our partners should maintain the improved tools of consultation on all issues that involve them, their interests, and their cooperative relationship with the Alliance.
NATO-RUSSIA RELATIONS
To better illustrate this point, allow me to address NATO-Russia cooperation for a moment. This is one of the most advanced, yet also one of the most problematic, engagements among NATO outreach engagements. Building on the positive momentum that has characterized European security for the last 20 years, the NATO-Russia Council (NRC) was established to ensure what today is a 29 equal-member format of cooperation on multiple issues across the full spectrum of security concerns and challenges. However, it soon became apparent that while the cooperation structures under the NRC roof kept on multiplying (today there are more than 10 different NATO-Russia working groups and formats), the substance of discussion was low. The Russia-Georgia conflict brushed away all the principles embedded in the NRC founding documents, particularly the agreement that sides will not resort to force while solving territorial issues and will not interfere in other countries' internal problems or their choice for integration into wider security structures. It is not surprising that Russia's action in Georgia led to a break in NRC relations, and today we still need to work hard to rebuild confidence and to persuade Russia to implement its commitments to withdrawing from separatist Georgian regions. Although on track for being repaired, NATO-Russia relations today still lack confidence, and encompass a lack of progress on CFE, missile defense, and other issues.
CONCLUDING REMARKS
Looking to the future, we must see a wider picture, that of global influences on our security, and deal with them accordingly. Not only NATO, but also wider European and other regional mechanisms, will have limited capacity to deal with challenges that are of a global nature. We need to find strength to put aside our differences and limitations and to work together against threats of a global nature—terrorism, proliferation, natural and man-made disasters. But we never should put aside our values and principles—to lose them while seeking short-term gains or practical advantages would be a gross miscalculation that would undermine all that we have achieved. NATO is and must remain a beacon of freedom and liberty, looking for and finding solutions but not taking shortcuts, so that those values can be shared by many more in the world.